Walkers Gluten Free Chocolate Chip Shortbread caught my eye when I was browsing the shortbread isle at my local import store. I've been lead to believe the Scottish brand Walkers is the reigning champion in the grand arena of grocery store shortbread. So good in fact the Royal Family of England have named them their official supplier of oatcakes and shortbread, which would be a pretty big deal if the Queen of England was also an expert shortbread-opionion-haver and not just a lady born into wealth.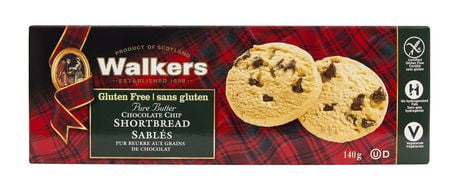 Conventional Walkers shortbread contains only four ingredients: wheat flour, sugar, butter, and salt. The gluten-free variety replaces the wheat flour with a mix of corn, potato starch, and rice. Also there's chocolate chips in these. In my experience corn, rice, and potato starch are a winning gluten-free flour combination and chocolate chips are good also.
These little round cookies have a delightful buttery taste, the taste of "Pure Butter" I assume. The flavor of the rice comes through slightly so I don't think the flavor is exactly like the originals but still very good. Nothing wrong with a little rice. The chocolate is very sweet and compliments the butter flavor without overwhelming it. It's an ideal companion to a cup of tea, to which the cookie's body holds up well and the chocolate becomes delightfully melted. The crumbly texture of shortbread translates very naturally into a gluten-free world.
At the present moment Walkers offers only three gluten-free products, the regular shortbread cookies, chocolate chip shortbread cookies, and ginger-lemon shortbread cookies. All in the "rounds" format. Overall a rather underwhelming selection. Which I guess is expected from a company that makes like, two things, but it would be nice to see gluten-free cookies in fun shapes like they have for their main line of products and not just the standard-issued slice off the shortbread tube we must contend with for the time being.
-Laurie